Chansons anglo-saxonnes spécial sexe
Par SerialJoker le vendredi 14 février 2014, 14:02 - Muzak - Lien permanent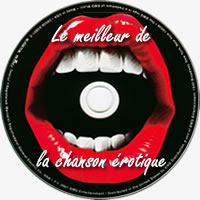 Suite à ma petite playlist des chansons grivoises françaises publiée il y a quelques semaines, je me suis attaqué aux petites anglaises, aux australiennes et aux grosses américaines! Et là, y'a du lourd!
J'ai le plaisir de vous présenter le meilleur, et le pire, de la chanson sexe anglo-saxonne, et ce, en 69 morceaux de plus en plus torride, voire interdits: planquez les enfants et certains parents aussi.
La chanson grivoise d'outre manche est à l'image des petites anglaises, ce n'est pas si torride que cela. Heureusement que j'ai trouvé quelques perles australiennes et les propos sans équivoques de nos cousins américains.
Par rapport aux chansons françaises, vous risquez de moins vous amusez, mais sitôt que vous saurez manier la langue comme il faut, vous trouverez un plaisir inouïe à découvrir toutes ces allusions.
Bref, le meilleur de la chanson anglo-saxonne parlant de sexe:
Artistes
Titre
Avis
Appréciation
SALT'N'PEPA
Let's talk about Sex
Parlons-en justement
The ROLLING STONES
Start Me Up
Pour se chauffer
The ROLLING STONES
Let's Spend The Night Together
Pour confirmer
Joe COCKER
You Can Leave Your Hat On
Un classic du strip-tease
INXS
Need You Tonight
Pour se trouver
David COVERDALE & Jimmy PAGE
Shake My Tree
Pour se chauffer à nouveau
WHITESNAKE
Slide It In
Main insinueuse
DEPECHE MODE
Master And Servant
SM new-wave
DURAN DURAN
I Wanna Take You Higher
Ailleurs et plus haut encore
MADONNA
Like A Virgin
Ah, quel souvenir!
Olivia NEWTON-JOHN
Physical
C'était vraiment physique à cette époque
VILLAGE PEOPLE
Sex Over The Phone
Et sans webcam en plus!
Janet JACKSON
Would You Mind
Oui je veux!
Marvin GAYE
Sexual Healing
Le must du must de la chanson érotique!
PRINCE
Do Me, Baby
A danser horizontalement
R. KELLY
Bump N' Grind
le mickey dans sa housse
SNOOP DOGG
Sexual Eruption
quand tu le secousses il mousse
Rod STEWART
Tonight's The Night
Défloraison funèbre
SCISSOR SISTERS & Kylie MINOGUE
Any Which Way
Kylie, c'est partout où tu veux et quand tu veux!
FRANKIE GOES TO HOLLYWOOD
Relax
Gai relachement
DEF LEPPARD
Pour Some Sugar On Me
Pour se désaltérer
AC/DC
You Shook Me All Night Long
Proposition remuante
AC/DC
Whole Lotta Rosie
La poupée Rosie est toujours d'accord
OASIS
Fuckin' In The Bushes
Sexe écolo
The BEATLES
Why Don't We Do It In The Road
Attention aux traces de pneu
MONTY PYTHON
Sit On My Face
Et oui, eux aussi
BAT FOR LASHES
I'm on Fire
Envie chaude
George MICHAEL
I Want Your Sex
Tenue incorrecte exigée
MILOW
Ayo Technology
Sex, Strip & Vidéo
Ozzy OSBOURNE
No More Tears
La marque du trou
Danko JONES
Like Dynamite
Tube explosif
BLOODHOUND GANG
The Bad Touch
Vive les chaines TV animalières
KORN
A.D.I.D.A.S
All Day I Dream About Sex
Iggy POP
I Wanna Be Your Dog
Amours chiennes
BLOODHOUND GANG
The Ballad Of Chasey Lain
Déclaration d'amour à Clara et ses copines
TONE LOC
Wild Thing
Du rap qui dérape
RIHANNA
Cockiness (Love It)
Oh la coquine
RIHANNA
S&M (Remix)
Et elle aime ça!
AMANDA BLANK
Might Like You Better
Tout à fait d'accord!
Britney SPEARS
I'm a Slave 4 U
Ah Britney...
The DRESDEN DOLLS
First Orgasm
Si tôt le matin?
EAST 17
Deep
Slow à danser horizontalement
MISSY ELLIOTT
Work It
Du rap féminin qui dérape
LIL KIM & SISQO
How Many Licks
et qui glisse
The DRESDEN DOLLS
Coin-Operated Boy
Toy Boy à pièce
The DIVINYLS
I Touch Myself
Main balladeuse
GOLDFRAPP
Ooh La La
L'est-ce bien raisonnable?
MY BLOODY VALENTINE
Soft As Snow (But Warm Inside)
Plaisir sans gland?
PULP
This Is Hardcore
En corps en corps
Alex HARVEY BAND
Gang Bang
Et elle en veut plus
QUEEN
Get Down, Make Love
En mode soumission totale
SEX PISTOLS
Friggin In The Riggin
Chanson paillarde
20 FINGERS
Short Dick Man
Pour Rocco et ses frères
LIL LOUIS
French Kiss
Orgasme dansant
Donna SUMMER
Love to Love You Baby
Orgasme chantant
The REVOLTING COCKS
Me So Horny
les 2 live crew revisité par Al Jourgensen
The OUTHERE BROTHERS
Boom Boom Boom
Splash Splash Splash
PEACHES
Fuck the pain away
Laisse bien raisonnable?
2 LIVE CREW
Face Down Ass Up
Course de levrette
TENACIOUS D
Fuck Her Gently
Quelle leçon de Jack Black!
The MISSION
(Slave To) Lust
Le stupre et la luxure
CLIENT & Carl BARAT
Pornography
On s'fait une sex-tape?
Melissa FERRICK
Drive You All Night
Laisse bien ta main là
PRINCE
Darling Nikki
Une nuit en enfer ou au paradis?
TWEET
Oops (Oh My)
Oh oui
SNOOP DOGG
Wet / Sweat
Comment passer une chanson des plus osées à la radio?
Ajouter un "S" au titre!
KHIA
My Neck, My Back, My Pussy
Plaisir buccal
The OUTHERE BROTHERS
I Wanna Fuck You In The Ass
Plaisir anale
NINE INCH NAILS
Closer
Au plus profond
MARILYN MANSON
Cake And Sodomy
It's the God of Fuck!
Ecoute de la playlist:
Liens & Infos:
(*): Et n'hésitez pas à me contacter pour avoir les quelques morceaux non disponibles chez Spotify...